Mobile Auto Detailing
Servicing Buffalo and all of Western New York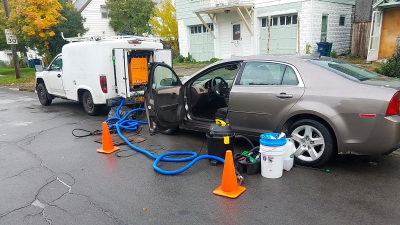 At Mobile Eco Steam, we understand that in this fast-paced world it can be challenging to accomplish everything you want to achieve each day. Juggling work, family, and other obligations has us spending more and more time in our vehicles, making it difficult to keep them clean and maintained. We created our business plan with the busiest of individuals in mind. To help clients save time and keep their vehicles smelling and looking like new we bring our mobile detailing team to your home or office.
Our innovative service is what sets us apart from the rest. Unlike a traditional car wash, Mobile Eco Steam truly does it all – and conveniently at any location. From salt and dirt removal to carpet and seat shampoos, washing and waxing, clay bar treatment, and more, our professionals provide top-quality service with exceptional results. Our mobile detailing specialists are highly trained and equipped with the knowledge and tools needed to make your car showroom-ready. We offer a variety of mobile detailing packages perfect for everyone – whether you're a busy parent who just wants someone to get the French fries and crayons under control or a savvy office manager looking for a great new perk to offer employees, we can accommodate your needs.
We take pride in being eco-friendly, using the power of steam to make your vehicle cleaner than ever while using as little as one gallon of water. Steam is one of the most environmentally safe and conservative ways to remove stains, grime, and muck without damaging your paint job. Our steam is hot enough to remove dirt but not hot enough to strip paint or remove wax. It also disinfects and deodorizes leather, upholstery, and vents removing pathogens that have built up over time without the use of harsh chemicals.